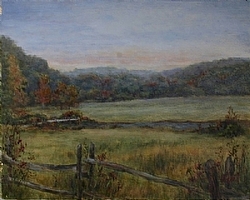 What a difference a few days make! Last week our temperature was in the high 90's and today was in the mid 80's. The evenings are in the high 50's and that crisp morning air certainly feels like autumn.

I love the clear blue skies that accompany fall. Contrasting the blue to the yellows and oranges of the dried fields makes for lovely complimentary color schemes.

Lately I have been working on figurative paintings in the studio. While I enjoy painting anything, portraits and figuratives are my favorite. I'll have to post pictures of them when I get photos done. In the mean time, I'll feature "McNeil's Crossing" which shows the colors of early fall. This original oil painting measures 16x20 and comes in a lovely wide plein aire frame. Price is $750.


Comment on or Share this Article >>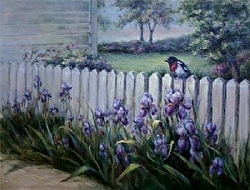 I will be exhibiting in Blowing Rock, NC Saturday, Sept. 8 for Art in the Park. The Chamber of Commerce sponsors this show each month from May through October and I have been invited to exhibit in October as well.

The weather will be warm, but there is already a hint of fall in the air. Perhaps it is due to the unseasonably dry weather we have had, but then it is September and autumn is just around the corner.

Blowing Rock is a picturesque mountain village that offers delightful shopping and sight seeing. It is just a few miles from Appalachian State University in Boone, NC. That is the little team that upset Michigan last week in football. I expect all of western North Carolina is still celebrating.

"Signs of Spring" is one of my newest works. This original oil measures 22"x28" and features a red breasted gross beak and purple iris . The white picket fence adds to the nostalgia.


Comment on or Share this Article >>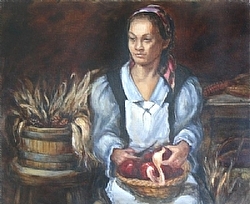 It is hard to believe that this is the first of September, the unofficial end of summer and only 4 months remain in the year. It means that I have got to get BUSY if I am to accomplish the goals I set. One of those goals is to do more painting on location. I've used the excuse of the weather being too hot, but that is changing, so now I need to just do it.
The painting shown is "Better Times". As we approach this Labor Day holiday may we mindful of all who labor to provide for their families.
This original oil was painted from life on a linen canvas. It measures 20"x24". Fine art giclee reproductions are also available. Contact me for information or to purchase.


Comment on or Share this Article >>