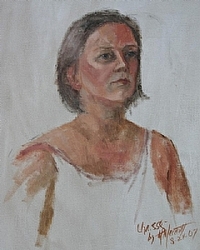 Several artists get together on Friday afternoons at the old Cordura Marble Building in the Vestal community of south Knoxville to paint or draw using a live model. They also meet on Saturdays for life drawing classes, but unfortunately that schedule doesn't work for me. I don't get to attend this session as often as I would like, but I go when I can. Mr. Gifford Nicolaides is our moderator.
Other than adding the appearance of about 20 years to the young lady (something no woman ever wants!) I felt like I had a pretty good likeness for a quick study. Next time she models, I'll try to make sure she is closer to her current age. I'm sure she would like that.



Comment on or Share this Article >>
I'm teaching a portrait of Madison entitled "Pretty in Pink" at the Heart of Ohio Tole Convention this week in Columbus, OH. It should be a fun, yet challenging class for the students. I throughly enjoy painting portraits and equally revel in teaching.




Comment on or Share this Article >>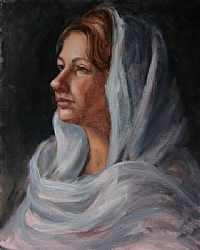 The Virginia Highlands was a nice festival as there were lots of things going on. People dressed in their clan's tartan plaid came to participate in the Celtic events. The lively and upbeat music wafted through the air and entertained the exhibitors as well as the people attending the art show.
The best part of any festival is meeting so many wonderful people.

Faith Lutheran Church in Farragut, TN invited me to hang some of my paintings. "Faces in Time" is a collection of 10 of my portraits. I thought the Madonna portrait, that I did from life, was appropriate for the location. Their web site is http://www.faithlutheranonline.com



Comment on or Share this Article >>