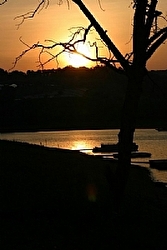 I am so proud of my 7 year old grandson, Cooper. His photo of "Cherokee Sunset" won first place honors in the youth division at the Grainger County Tomato Festival Art Show. He was excited too!
A couple of weeks ago we were on the lake bank at dusk and he wanted to take pictures. I showed him how to operate my Canon Rebel and he started snapping away. One of the advantages of digital cameras is that you don't have to worry about wasting film. I was amazed how well several of his photos turned out. He seemed to have a knack for good composition. It made me think, perhaps we all should rely on our instincts more often rather than trying to analyze things to death.

Just a few days after Cooper's photo excursion, this tree fell. It had been dead for a couple of years and finally a hard storm did it in. We all had to morn a bit as it has been the site of lots of fun for Cooper's Mom, Uncle Greg and numerous neighborhood kids. When the lake level was high, they would climb up the branches and dive in or swing out over the water. That is, until they saw gar fish swimming around.

I will be at the Virginia Highlands Festival in Abingdon, VA August 2-7. Stop by booth #1 in the big tent near Barter Stage II and see me.


Comment on or Share this Article >>