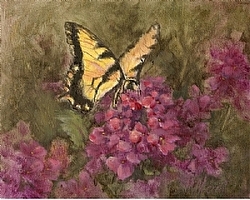 These lazy, hazy, crazy days of summer make me nostalgic for days gone bye, times when life was simple and carefree. Growing up on a farm gave me the appreciation for the smell of freshly mowed hay and new baby calves. The thrill of picking the first tomato off the vine, wiping the dirt off on your shirt and savoring the delicious taste immediately are vivid recollections from my youth. Paul and Cooper, my grandson, have a tomato patch this year. The vines are heavy laden with beautiful fruits that are beginning to turn color. Cooper can pick the first ripe tomato in about a week!

Last week was a busy week for painting. Paul took some great photos of red wing black birds in the cat tail marsh near his Mother's house. I worked on a series of paintings inspired by these lovely creatures. I'll post photos as soon as I get them taken.

In the mean time, enjoy the "Butterfly Morning" a painting that I will be teaching at Rocky Top Decorative Painters Summer Paint-in on July 17. My inspiration for this painting was from photos I took last summer in my yard. I haven't seen any butterflies this year, but I hope they will return soon.


Comment on or Share this Article >>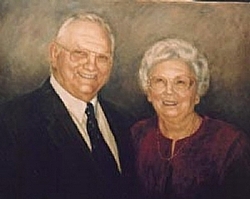 There was never any doubt in my mind but what I was loved. Daddy showed my sister, Carolyn, and me that he loved us by word and deed. Everette and Frances Burchette have been wonderful parents and I am fortunate to still have them. My husband's Dad, Lois Z. Merritt, passed away a couple of weeks ago after a lingering illness. Paul and his siblings were able to spend time with him during that period. Now they take turns caring for their Mother. Paul's family is also close and loving, although they found it more difficult to say the words, "I love you." Many fathers have difficulty telling their children those simple three words, but it is something that all children need to hear....often!

My home church, Romeo Methodist in Greeneville, TN celebrated their annual Father / Son cookout tonight. Everyone is invited to this delightful event and it was good to spend time with Daddy and Momma and others from the place where I grew. Even though I've been gone for years, it still is home to me. Daddy won the award today for the "oldest father". He is 80. I hope that he will receive that award for many, many more years.

I love you Daddy! You too Momma! Thanks for loving me!










Comment on or Share this Article >>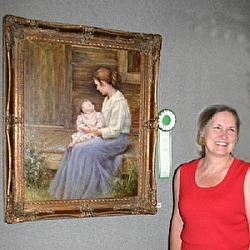 The Morristown Art Association's annual juried show is at Rose Center through the end of June. I was honored to win two awards in the event. "A Mother's Love" received the prestigious "Brenda Dugger Memorial Award". I even got my picture in the paper because of that! Ouch....I looked old and fat, but I was happy! My "Spring at Clinch Mountain Overlook" received a Merit Award. Seventy beautiful pieces were chosen for the show out of the 107 entered.

Comment on or Share this Article >>