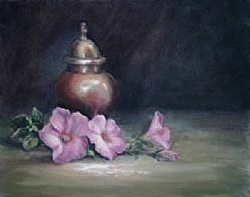 It takes a wonderful husband who is willing to help me out! I have to be the luckiest woman in the world. Paul has put up with me for 33 years and is still here to support and encourage and help me when needed.
I'm off Friday noon to Connecticut to teach a 2 day seminar to a great group of painters. This trip had been planned for over a year and I'm really looking forward to it.

I don't travel teach as much as I used to. I suppose there are so many other things going on, but I do enjoy teaching. To see students learn and grow as artists is pure delight. Just don't tell anyone that I learn as much from them as they learn from me.

I was all set for this trip when along comes an opportunity with Tennessee Artists Association to exhibit at the Southern Living Showcase home. Paul VOLUNTEERED to set up and show for me. Now that is love! Wouldn't you know that the weather is going to be cold and rainy. It must be Dogwood Arts Festival time. It seems like the weather is like this every year.
The photo shown is one of the projects I'm teaching at the Conn. SDP. "Brass and Petunias".

Comment on or Share this Article >>