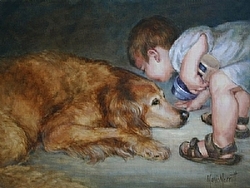 "If we are growing serious, then we are in great danger of becoming

dull." I'm not sure where I ran across that quote, but it is a reminder

to not take life too seriously, instead we should enjoy it.


I visited the Knoxville Museum of Art today where the Arts &

Culture Alliance Annual Meeting luncheon was held. The KMA had a

delightful exhibit entitled "SubUrban" by Seonna Hong. Her unique

style, which combines animation and painting, told the story of her

childhood. While she is much younger than me, her look reminded

me of cartoons from my youth. Stories of conflict, friendship,

and self help are woven into the seemingly simplistic images, but she

shows us that children are resilent and their experiences pave

the transition into adulthood.


I am reminded to embrace my inner child and to live, learn and grow and

not be so darned serious all of the time. It might even

help lower my cholesterol. The image shown is of my grandson and my loveable dog Ginger, who has since gone on to doggie heaven.


I came home and worked on a painting of red tulips. While it is not cartoons, it is bright and cheery.



No photo yet available of the tulips but I'll show one of my favoite
paintings. It is of my grandson and my dog, Ginger, who has since gone
to doggie heaven. This reminds me to appreciate every moment.













Comment on or Share this Article >>