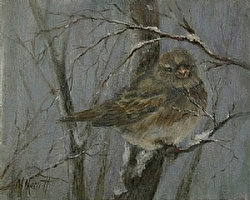 Friday evening the Low Vision Center in Knoxville hosted the inaugral 'Unobstructed View' fundraising gala. This lovely event showcased thirty works from various artist in the East Tennessee area. These juried pieces were auctioned by a delightful young man from Furrow Auction Company. He did a great job of getting the top bid for each item.
Congratulaions and appreciation go to Debbie Godfrey, the volunteers and Dr. Gilliland for providing this venue for area artists and more importantly to the patrons who supported this worthy effort.
"The Low Vision Center is a 501 c3 non-profit center providing comprehensive vision rehabilitiation services for patients with moderate to severe vision loss."
This event will grow and prosper in the future.
Mr. & Mrs Gunter won the bid for my painting "Snow Sentry".



Comment on or Share this Article >>