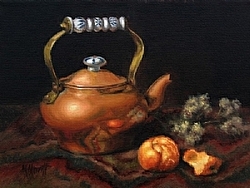 This winter has been a busy time for me. After many years of being home, making my own schedule and painting most every day, I have had to re-enter the 9-5 schedule. We have an agency that provides supported living for the mentally challenged and it was right that I become more involved in the day to day operations. To say that this change has altered my schedule is an understatement, but working with our people has many rewards. I know that I am where GOD intends for me to be now.
Relieved of the pressure to produce works for shows, I have decided this is a great opportunity to experiment and try new techniques and styles. Artists tend to develop a technique they are comfortable with and that produces a cohesive body of work, and I am no different. Stepping out of one's comfort zone, is scary, but it also allows one to grow and develop. Hopefully, my experiments will be successful and when (or if) GOD decides it is time for me to get back to my art full time, my work will have achieved a higher level.

I do enjoy testing my skills when working from life. Plein air forces the painter to work very quickly due to the changing light, whereas the technique employed for this still life allows for lots of time to achieve accuracy in the drawing, hue and values.

I hope you enjoy viewing "Orange Tea" a set up that I did on a cold wintery day.


Comment on or Share this Article >>