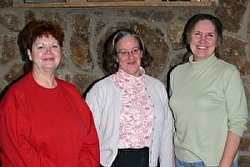 Two of my good friends and fellow artists formed an art marketing salon
or community using Alyson Stanfield's Art Biz Connection
materials. Alyson graciously provides these materials free of
charge at http://www.artbizconnection.com What we have learned in
the first two meetings has been amazing.

Christine Reilly of http://www.fireflybead.com is a gifted bead kit
designer and has a great wholesale business Lois Armstrong of
http://www.loisarmstrongart.com is a multitalented artist who does
watercolor, oil, & scrimshaw. Her painted leaves have
been very popular. I'm a tradtional oil
artist, so we have a lot in common, but also have varied markets.

We are all serious about marketing our art. We are at the same stage in
our lives and we are commited to encouraging and supporting each other
in ourendeavors. We have learned 3 heads really are better than
one.

The photo shows left to right: Lois, Christine and me, Marie.







Comment on or Share this Article >>