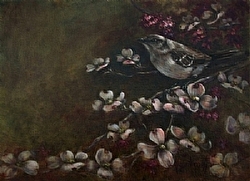 Yeah for the Colts! Peyton had a huge monkey fall from his back tonight. I am not a big NFL fan, but am a faithful University of Tennessee fan and since Peyton Manning was a true Volunteer, then I have to pull for him. Ok, enough football. This is an art blog.
Jean - Claude Killy, a skier from years ago, said "I will always be someone who wants to do better than others. I love competition." I don't love competition for competition sake, but I do think it helps you improve. So, to that end, I like to enter art shows. Today I dropped off a painting for the Knoxville Dogwood Arts Limited Edition Print.

Typically an art competition will have one juror. A juror may love your work and give a painting a top award, yet the same painting may not even be accepted to hang for the next competition. The appreciation of art is subjective.

The Dogwood Show is to be juried by the public this year. This novel approach should be interesting. My guess is that the best painting will win.

If you are in Knoxville, stop by the "Three Flights Up Gallery" at 100 S. Gay Street, and cast a vote for my "Tennessee Treasurers". I'll give you a big hug!
If you like someone else's better.....vote for mine anyhow. I'll give you a really big hug!





Comment on or Share this Article >>