I'm teaching a portrait of Madison entitled "Pretty in Pink" at the Heart of Ohio Tole Convention this week in Columbus, OH. It should be a fun, yet challenging class for the students. I throughly enjoy painting portraits and equally revel in teaching.




Comment on or Share this Article >>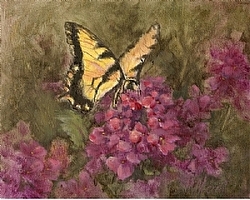 These lazy, hazy, crazy days of summer make me nostalgic for days gone bye, times when life was simple and carefree. Growing up on a farm gave me the appreciation for the smell of freshly mowed hay and new baby calves. The thrill of picking the first tomato off the vine, wiping the dirt off on your shirt and savoring the delicious taste immediately are vivid recollections from my youth. Paul and Cooper, my grandson, have a tomato patch this year. The vines are heavy laden with beautiful fruits that are beginning to turn color. Cooper can pick the first ripe tomato in about a week!

Last week was a busy week for painting. Paul took some great photos of red wing black birds in the cat tail marsh near his Mother's house. I worked on a series of paintings inspired by these lovely creatures. I'll post photos as soon as I get them taken.

In the mean time, enjoy the "Butterfly Morning" a painting that I will be teaching at Rocky Top Decorative Painters Summer Paint-in on July 17. My inspiration for this painting was from photos I took last summer in my yard. I haven't seen any butterflies this year, but I hope they will return soon.


Comment on or Share this Article >>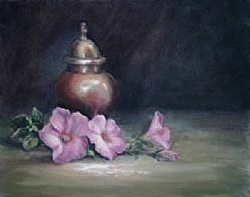 It takes a wonderful husband who is willing to help me out! I have to be the luckiest woman in the world. Paul has put up with me for 33 years and is still here to support and encourage and help me when needed.
I'm off Friday noon to Connecticut to teach a 2 day seminar to a great group of painters. This trip had been planned for over a year and I'm really looking forward to it.

I don't travel teach as much as I used to. I suppose there are so many other things going on, but I do enjoy teaching. To see students learn and grow as artists is pure delight. Just don't tell anyone that I learn as much from them as they learn from me.

I was all set for this trip when along comes an opportunity with Tennessee Artists Association to exhibit at the Southern Living Showcase home. Paul VOLUNTEERED to set up and show for me. Now that is love! Wouldn't you know that the weather is going to be cold and rainy. It must be Dogwood Arts Festival time. It seems like the weather is like this every year.
The photo shown is one of the projects I'm teaching at the Conn. SDP. "Brass and Petunias".

Comment on or Share this Article >>