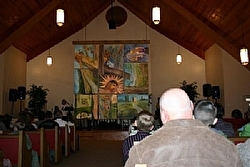 Easter Sunday completed a series of sermons our pastor, Marty Shelton at The Church of Rutledge, did on "The Glory of God". I believe he patterned it from messages by Charles Stanley Jr.and asked that I do the paintings that went along with it. Nine paintings, some showing the creation, one the birth of Christ, others about the "gods" we chase, were displayed throughout the 4 weeks that the series spanned.
Marty pointed out that GOD created this world and everything in it and made it perfect. We humans messed it up. We want to put our mark on it. We want to make it about us rather than putting GOD first and glorifying him. But GOD loved us so much that he sent his only begotten son to suffer and die for our sins.
Today, these paintings came together to portray the crucifixion.
I thank GOD for the talent he gave me and the opportunity to use it to glorify him. Without him, I am nothing.