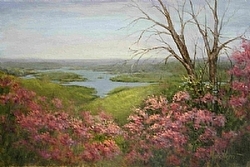 Yeah! I'm finished filing my income tax for the year. By using Turbo Tax it really isn't THAT bad any more. It certainly isn't like it used to be when everything had to be manually figured, but I still hate to do them. Even getting a refund doesn't make it any more pleasant. Perhaps it is simply the conflict of left brain and right brain. I would have much preferred to be outside enjoying the beautiful dogwoods and redbuds.

The flowering trees and shrubs are prettier than I can ever recall. (I probalby say that every year!) Our East Tennessee spring has been very warm and dry, so we were blessed to get a much needed gentle rain today.

The painting pictured here is "Spring at Clinch Mountain Overlook". Giclee' reproductions of this original have found homes from California to New England and from Minnesota to Florida. For some collectors, it is a reminder of a place where they used to live or visit. Several reproductions have gone to people who have never visited the area, but see it as a place of beauty and tranquility. That it is!

I love my native East Tennessee in the spring. It makes tax time much more tolerable.