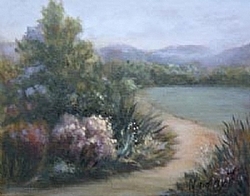 This past weekend was really delightful. My show went well, which is always a plus, but more importantly, I got to visit with family, friends and meet new friends.

I have been reading The Purpose Driven Life which really puts our own being in perspective. I also know that things happen for a reason. God put a person in my path on Friday that blessed me and I know she benefited as well. This was not a coincidence. We were there for a purpose.

This show was the 3rd annual for our ARTS group. Thirteen artists exhibited in the lovely Arts & Heritage Center in Rutledge, TN, also known as the Nance House. It is a lovely federal style home that was saved from the wrecking ball thanks to grants and the efforts of several concerned citizens.
One of the paintings that I sold was a plein aire study of an old tree in the garden.

We traveled to my uncle's in Greeneville, TN on Sunday to celebrate Christmas with the Kirkpatrick family. What a wonderful time!! The food was delicious, but the fellowship was even better! That is the best part of the holidays.
Plus, I got to show off the book, "The Legend and Legacy of Lee", by David Chaltas that has my painting, "Hour of Decision" on the cover. How's that for shameless self promotion.