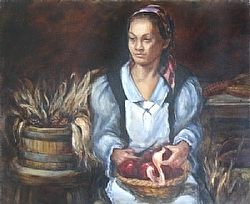 It is hard to believe that this is the first of September, the unofficial end of summer and only 4 months remain in the year. It means that I have got to get BUSY if I am to accomplish the goals I set. One of those goals is to do more painting on location. I've used the excuse of the weather being too hot, but that is changing, so now I need to just do it.
The painting shown is "Better Times". As we approach this Labor Day holiday may we mindful of all who labor to provide for their families.
This original oil was painted from life on a linen canvas. It measures 20"x24". Fine art giclee reproductions are also available. Contact me for information or to purchase.