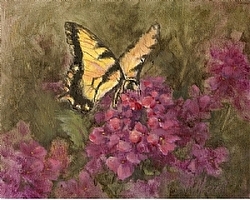 These lazy, hazy, crazy days of summer make me nostalgic for days gone bye, times when life was simple and carefree. Growing up on a farm gave me the appreciation for the smell of freshly mowed hay and new baby calves. The thrill of picking the first tomato off the vine, wiping the dirt off on your shirt and savoring the delicious taste immediately are vivid recollections from my youth. Paul and Cooper, my grandson, have a tomato patch this year. The vines are heavy laden with beautiful fruits that are beginning to turn color. Cooper can pick the first ripe tomato in about a week!

Last week was a busy week for painting. Paul took some great photos of red wing black birds in the cat tail marsh near his Mother's house. I worked on a series of paintings inspired by these lovely creatures. I'll post photos as soon as I get them taken.

In the mean time, enjoy the "Butterfly Morning" a painting that I will be teaching at Rocky Top Decorative Painters Summer Paint-in on July 17. My inspiration for this painting was from photos I took last summer in my yard. I haven't seen any butterflies this year, but I hope they will return soon.