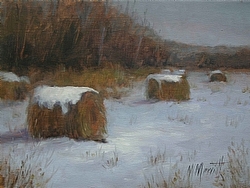 Today's landscape is from the photo files. I have plenty of farm scenes photos, but wanted to get on with painting this morning, so visited the image files at wetcanvas.com. I had intended to paint a summer hay bale, but really liked the winter scene. Note to self....get photos organized!!
I am taking a workshop with Roger Dale Brown later this week and thought I needed to brush up on some landscapes.
Original Oil "Winter Hay" 9x12 on canvas. Contact Marie to inquire about purchasing this or any other art work.